Up, down, and underground, power lines are around us and are dangerous.
Knowing the risks and how to avoid them will keep all of us safe (our furry friends, too!)
---
Stay 10 Metres away from Downed Power Lines
(the length of 10 bloodhound dogs)

if you see downed power lines caused by a storm or accident, always assume they're live. The ground around the downed power lines may be electrified.

Report it to Hydro One Remotes at 1-888-825-8707
---
Stay 3 to 6 Metres away from Overhead Wires
(that's 3 beavers)

Power lines and the surrounding air space which insulates the line can be hazardous. Always look up before carrying a ladder, cutting branches or playing outdoor activities like flying kites or climbing trees.


Stay at least 3 to 6 metres away from overhead power lines.


Keep gardening tools at a safe distance from overhead power lines to avoid electrical arcing.


Always carry equipment, like ladders, horizontally.
---
Keep your Paws away from Electrical Equipment
Curiosity never worked out for the cat. Avoid tampering with electrical equipment. Don't open, remove content, or touch the inside of any electrical equipment – that also includes those locked steel cabinets. They contain transformers and can be dangerous.
---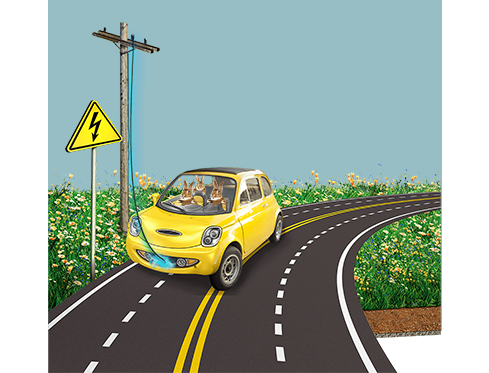 Fallen Power Lines? Stay in your Vehicle
If you're in your vehicle and a power line falls on top of it, stay inside your vehicle and call 9-1-1. Leave immediately if there's a fire. To get out safely, do the "bunny hop" – jump out of your vehicle with both feet together so that you don't touch the ground and the vehicle at the same time.
---
Don't Touch Power Lines
Touching a power line isn't the only way to get a deadly shock. If you get too close, electricity can jump or "arc" to you or your tools, so always stay 3 metres back.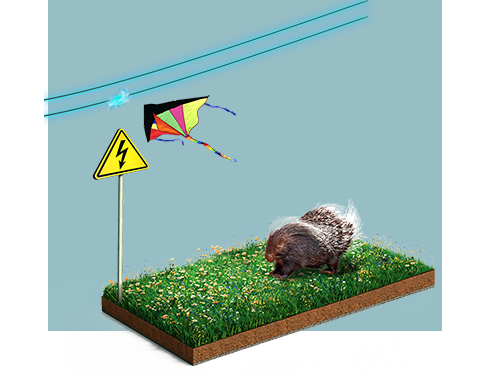 ---
Click before you Dig
Getting your garden ready, planting trees or installing a new fence or deck is exciting! But do you know what's below the surface of your lawn?


That's why it's important for you or your contractor to request a locate. An underground locate will determine if and where utility lines and infrastructure exist on your property. Plan ahead to avoid power loss, damage liability and personal injury.


Visit

OntarioOneCall.ca

or call

1-800-400-2255

to request your free locate. Make your request at least one week before starting your project to ensure locates are completed on time.


Sit tight! Don't get started on any digging until you've received confirmation / responses from all utilities on your locate. Expect a minimum of 5 business days, so plan ahead.


A service representative will mark where the underground infrastructure runs through your dig area and will provide a locate sheet with a diagram of what has been located. If markings are not required, you'll still receive a response from the utility.


Follow any additional digging instructions outlined by each utility on your locate.


You're all set! Channel your inner gopher and start digging safely!

---